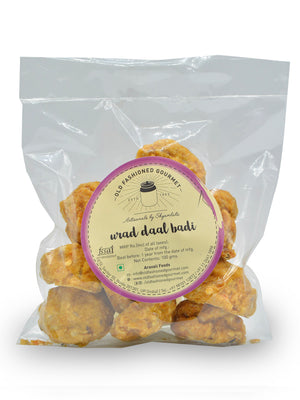 Masala Urad Dal Vadi or Badi as we call it is also known as wadiyan, vadiyal, vadiyalu.Vadi is summer essential in most of the North Indian house and has been prepared for generations by grinding dal, spices and sun-drying them for a few days, to be consumed year-round. 
Its an ancient superfood, for its packed with proteins and nutrients. 
When added to  veggies or meat, Badi's add immense texture to any dish.
This is homemade, handmade and sundried from our family heirloom recipe. 
We use Pink Himalayan salt, premium spices and best possible Urad daal like like our ancestors used to.