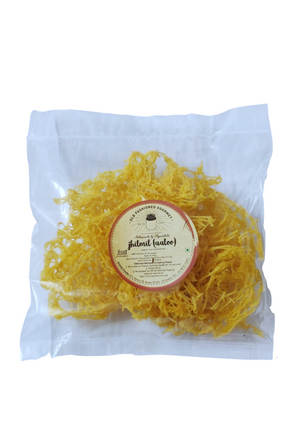 This traditional variation of Aaloo papad is a specialty of Benaras in Uttar Pradesh also known as  Aaloo ki Jalebi or Aaloo ka Chhatta or Chhatri / Tokri. 
Seasonal special potatoes are sun-dried only in months of the strong sun to make this wonderful hyper-local ancient food specialty. Hand-made with boiled potatoes are passed through a special sieve to make a lace-like or Jalebi-like design which is then sun-dried to be stored and consumed throughout the year.
These are to be DEEP-FREID at home, at the time of consumption. You cannot eat it as is. 
Made with Pink Himalayan Salt, these are Gluten and are made without yogurt or milk.  
Taste- Savoury
Weight- 100 gm