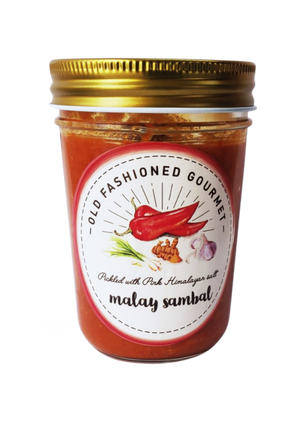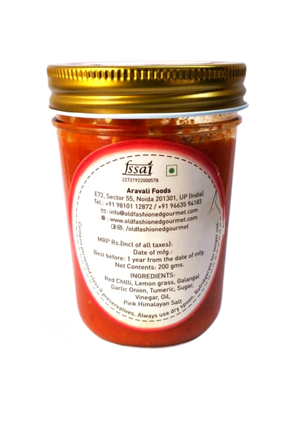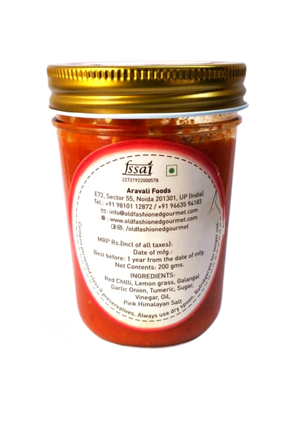 This iconic Malaysian condiment is now made in our own kitchen and available in yours. Try out the authentic sauce and bring Malaysia home. Just one whiff and you will know. 



And its LACTO-FERMENTED - 

The Lacto-fermenting process allows healthy bacteria (like lactic acid bacteria) to convert carbohydrates (or sugars) in the peppers into acid and maintaining the correct pH balance which is important for keeping out bad bacteria and preserving the hot sauce also giving it a positive effect on the digestive system, and long shelf-life. It adds a tang and depth of flavour you just don't get from regular hot sauces due to the complexity in flavors it brings out in the sauce. 
Our Malay Sambal is handcrafted and made with fresh ingredients. A duo of fiery Red chilies, thin long spicy ones, and the winter special big chilies are muddled with farm-fresh Lemongrass, fragrant Galangal, small onions & garlic along with fresh Turmeric to make this Malaysian delicacy. 
It's SPICY, tangy, super fragrant, and has a mildly sweet note to soothe the palet from the spice hit in the end. 

Each ingredient is hand peeled, hand-cut, sun-dried, and then muddled and steeped together to make this delicious sauce. 
This makes an excellent as a Spread, Marinade, Salad Dressing. Add it to steamed rice or fried rice to make a quick Nasi Goreng or Noodles to make a Mee Goreng. Use it as a dip for Satays or a spread for wraps. Don't kill us if you feel like eating it right from the jar as well 😜

Pickled in Pink Himalayan Salt
Contains no preservatives, additives, or color.
Contains minimum oil and vinegar
To Taste - Spicy, Sweet & Tangy
Weight 200 gms