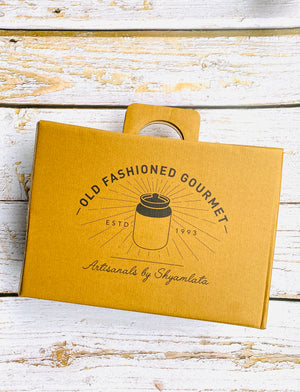 Wanna give Old Fashioned Gourmet goodies to your family & friends ?
Now make a hamper of 6-8 products to go in this cute box.
Pickles Price not Included
This can be used for shipping as is. 

Can accommodate 6-8 items depending on size. (maximum 4 pickles, plus some spices and spice blends)
Has a little handle on the top, to make it look like a mini vintage suitcase.
We will pack your chosen products so that they don't break. Glass jars will be packed in break-proof airbags inside this box. 
The products will be shipped in this box. incase you would like to separately please message us on whatsapp helpline on the website.