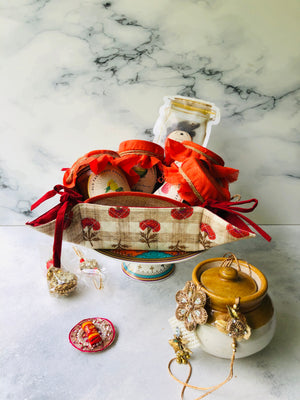 This wonderful Bread basket makes a rather delightful hamper. 
Fill it will old-fashioned food love of your choice. 

We recommend 4 different pickles & relishes to be tied  on top with the soft fabric and thin rope thread, giving it a very retro vibe. 
There is a round jute burlap Mat inside giving it layers of fabric adding visual appeal which serves as cloth cover for bread or roti to be covered later. 
You can also add your choice of papad or spice blends to the hamper.
Basket includes : 

1 cloth basket : size of basket 11" X 11 " square
1 Round Cloth base approx 7"
4 round thin cloth for topper approx 6"
4 jute strings for tying on top

Prints may vary from picture, in Blue & White indigo prints
This has to be assembled at your home
Price is only for the hamper
Old Fashioned Gourmet products not included in price