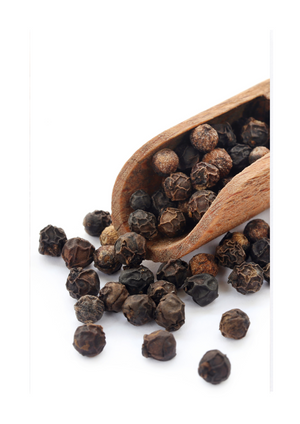 Black Pepper or Kali Mirch, the iconic Indian spice needs no introduction. Piper nigrum is a flowering vine in the family Piperaceae, cultivated for its fruit, known as a peppercorn, which is usually dried and used as a spice and seasoning.
Pepper originally belongs to South India, It's played a vital role in history, and has been considered as an important spice from time immemorial. In ancient Greece, it was also used as currency. In later years, it became pivotal in the spice trade across the world.
It is known to prevent cancer, aid in digestion, promotes weight loss, relives cold and cough apart from the many many known benefits.
On the culinary front, it adds zing to any meal. It's known to be gentler on the stomach compared to red chillies. Add it to food or a drink and you will hit the pepper spot every time. 
- 100gm